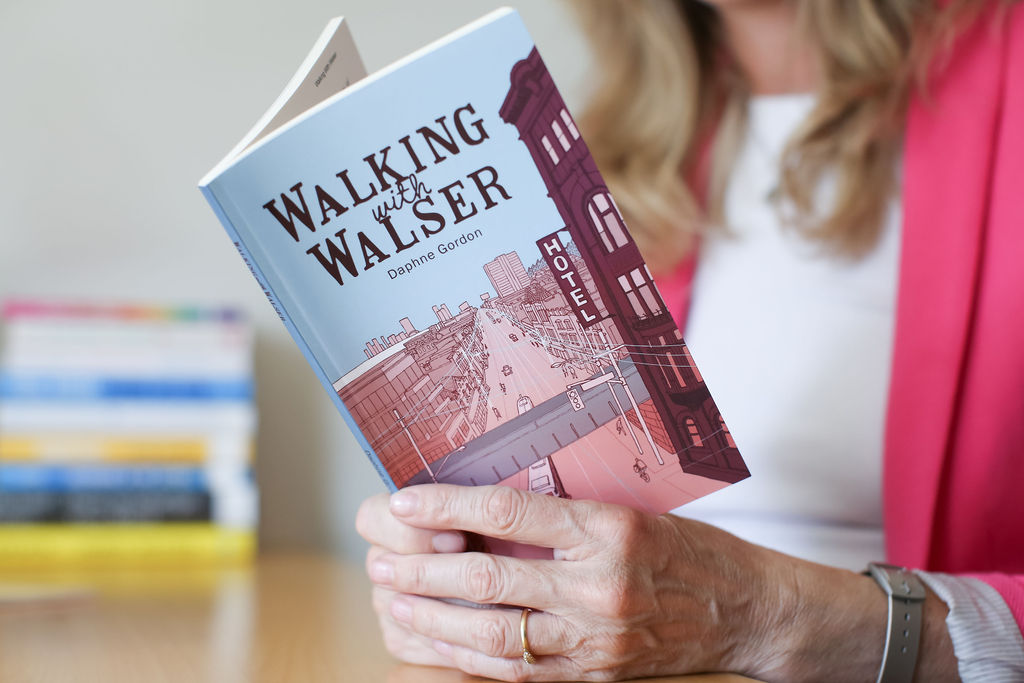 I'm a fiction writer and self-published author. Walking With Walser came out in 2015 and is now available at major online bookstores. 
Love!? Certainly.
But can it help a person learn to skate?
And can it win a political campaign?
Ursula, an eccentric, middle-aged writer, likes to walk almost as much as she likes to write.
One day in the spring of 2013, possibly to avoid the digital network where she makes her living but also just because it's a beautiful day, Ursula puts her hat on her head and sets out along her favourite thoroughfare, Queen St. West, in Toronto.
Walking, thinking, watching and talking, Ursula opens to her neighbourhood.
She visits a bookstore, goes to the bank, has lunch with a friend, attends a dress fitting, posts a scathing letter to the mayor, and considers having her hair cut. She chants om. She picks flowers.
Walking is Ursula's way of greeting Mother Nature. This is her way of honouring her favourite writer of all time, the flâneur Robert Walser. This is bliss.
But every sunny day must come to an end, and every walk must turn homeward again. As a soft rain begins to fall, Ursula is overcome with grief, loss, and regret.
Will she find relief from her pain? Will she run for mayor? Will she learn to skate? Most importantly, will Ursula finally learn to believe in love?
PRAISE
ABOUT MY FICTION
I love to walk almost as much as I love to write, and the two things came together in 2013, when I spent a lot of time walking in my downtown neighborhood — Queen West, Toronto.
My son was four years old and (finally!?) in school during the day. I was exploring my neighbourhood anew, experiencing myself and the world again after what felt like a four-year maternity nap.
I wrote this book while sitting in the city's cafes, parks, and public spaces. It's my way of meditating on motherhood, community and creativity. It's me saying thanks to the place where I live and the people who live near me. It's an act of love.
EXCERPT
Read the first 15 pages of Walking With Walser.
BUY THE BOOK
Walking With Walser is available in print or as an ebook at major online bookstores. Click below to buy from your preferred retailer.